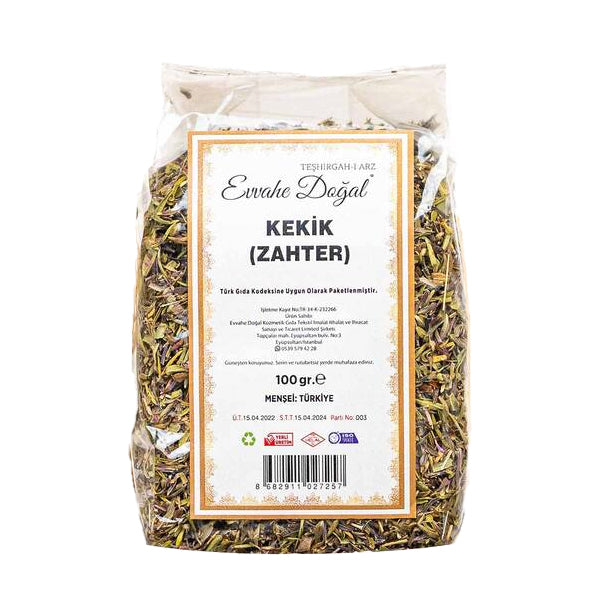 Evvahe Dogal Zahter 100g
Original price
$8.00
-
Original price
$8.00
Experience the vibrant flavors and rich heritage of the Mediterranean with our premium Zahter (Za'atar) blend. Crafted with care and a commitment to authenticity, this aromatic mixture is a versatile culinary treasure that embodies the essence of Mediterranean cuisine. Our Zahter combines a harmonious blend of dried herbs, seeds, and spices, creating a robust and savory seasoning that has been beloved for generations.
Common Uses:
Flatbreads and Dips: Sprinkle Zahter on flatbreads such as pita or lavash, drizzle with olive oil, and enjoy with your favorite dips like hummus or labneh.

Grilled Meats and Vegetables: Use Zahter as a seasoning for grilled meats like chicken, lamb, or fish, as well as grilled vegetables. It adds a savory kick to your barbecued dishes.

Salad Dressing: Create a Mediterranean-inspired salad dressing by mixing Zahter with olive oil, lemon juice, and a touch of honey. Toss with fresh greens and vegetables.

Marinades: Incorporate Zahter into marinades for meats or tofu. It infuses dishes with a delightful blend of flavors.

Vegetarian and Vegan Dishes: Enhance the flavor of vegetarian and vegan recipes by adding Zahter to soups, stews, or roasted vegetables.

Bread and Pastries: Sprinkle Zahter on bread or pastries before baking for a unique and aromatic twist on traditional recipes.

Condiment: Blend Zahter with yogurt or olive oil to create a delicious dip or spread for bread, crackers, or raw vegetables.