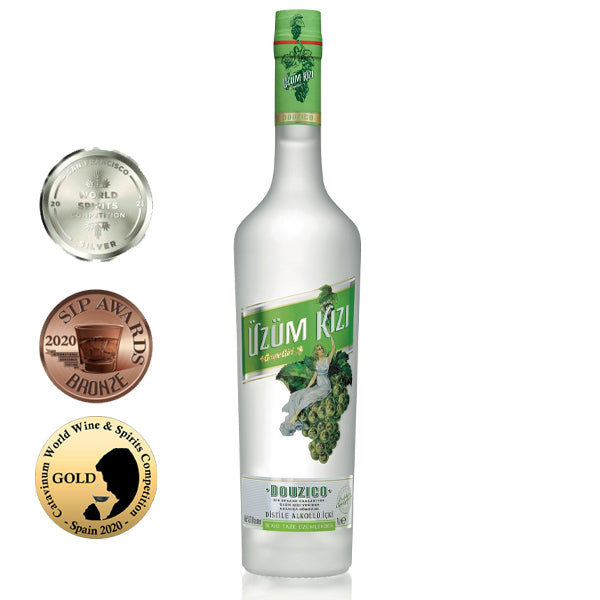 Uzum Kizi (Grape Girl) Douzico 700ml
Original price
$84.00
-
Original price
$84.00
 Country Of Origin
Turkey

Size

700ml

Category: Spirits, Douzico

Alcohol: 37.8%
Uzum Kizi (Grape Girl) offers a pleasant aromatic experience in the nose and the palette with prominent citrus and exotic fruit notes. It has a full-bodied texture and a velvety taste with a smooth finish.

Uzum Kizi (Grape Girl) is a product in the Douzico category, a category that once was extremely popular in Anatolian and Balkan territories. Duziko, which emerged in the last period of the Ottoman Empire and was produced until the first years of the Republic, is a drink obtained by distilling fermented fresh grapes in copper alembics.
In the early 1900s,
Douzico
was produced under many brands. One of the
Douzico
brands once was Grape Girl, which was depicted with a bunch of grapes on its label.
It is made from fresh grapes, from Aegean Region in Turkey Western Anatolia, which are fermented after the maceration period, and then distilled in copper alembics. It contains no ingredient other than grapes.

Smells of fresh grape alcohol on the nose. The grape flavor is also felt on the palate, and cooked tones resembling grape compote and jam are perceived. Kind of like aniseless raki. It can be drunk well chilled, it can be used in cocktails, it can also be tried with plenty of ice and lemon.
Awards

2021 - Silver Medal
San Francisco International Drinking Competition
2020 - Gold Medal
Catavinum International Drinks Competition 

2020 - Bronze Medal
Sip International Consumer Evaluated Tasting Competition