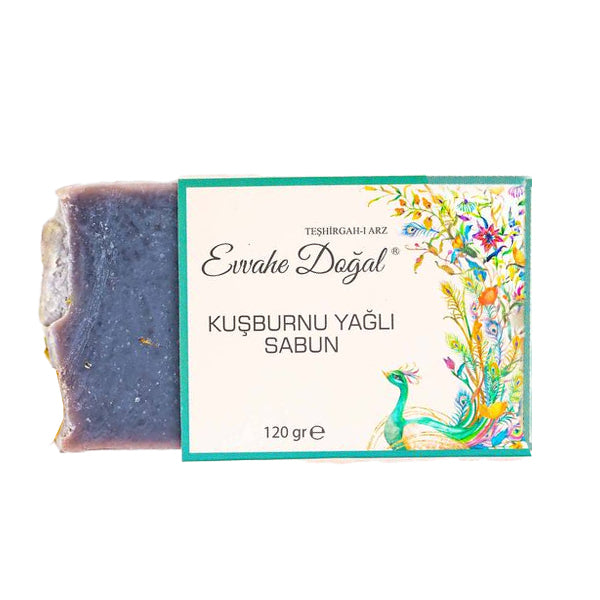 Evvahe Dogal Rosehip Oil Soap 120g
Original price
$9.00
-
Original price
$9.00
Rosehip Oil Soap is a luxurious and rejuvenating addition to your skincare regimen. Crafted with precision and a commitment to harnessing the natural benefits of rosehip oil, this soap is a gentle yet powerful way to nurture your skin's health and vitality.
The Rosehip Oil Soap is a testament to the art of soap making. Each bar is carefully handcrafted using traditional methods, ensuring that you receive a high-quality product that cleanses and pampers your skin. The star ingredient, rosehip oil, is renowned for its remarkable skincare benefits. Its gentle, floral scent not only cleanses your body but also nourishes and revitalizes your skin.
Key Benefits:
Skin Renewal: Rosehip oil is rich in vitamins A and C, which are known to support skin regeneration and help reduce the signs of aging. Regular use of our soap can leave your skin looking more youthful and radiant.

Hydration: This soap provides gentle cleansing without stripping your skin of its natural oils. The hydrating properties of rosehip oil help maintain the skin's moisture balance, leaving it soft and supple.

Brightening: Rosehip oil is known to improve the appearance of uneven skin tone and dark spots. With continued use, our Rosehip Oil Soap can help you achieve a brighter, more even complexion.

Antioxidant Protection: Rosehip oil is packed with antioxidants that combat free radicals, which can contribute to premature aging. Using this soap can help protect your skin from environmental damage.

Gentle Cleansing: The soap is suitable for all skin types and can be used on your face and body. Its mild formula cleanses without causing irritation, making it ideal for sensitive skin.