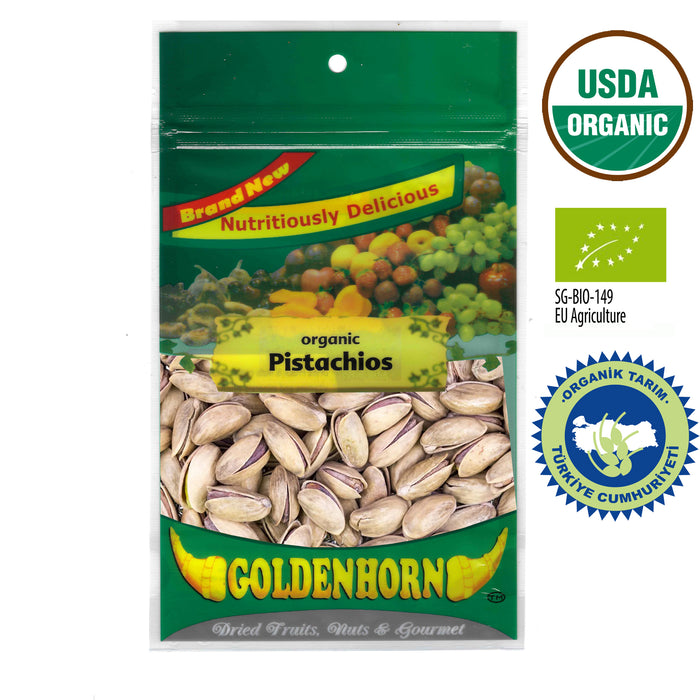 Golden Horn Organic Antep Pistachios 90g
Original price
$5.60
-
Original price
$5.60
These are probably the world's best pistachios. The Antep Turkish Pistachios pack the most punch compared to other pistachios.
Once you have the Antep Pistachios, It will be a lifetime experience taste for you and without fail, you will be hooked on to it forever!
Benefits
Heart Health: Pistachios are a good source of heart-healthy monounsaturated and polyunsaturated fats, as well as phytosterols. These fats can help lower LDL (bad) cholesterol levels, reducing the risk of heart disease.

Antioxidants: Pistachios contain antioxidants, including vitamin E and phytochemicals, which help combat oxidative stress and inflammation in the body. This can contribute to overall health and well-being.

Blood Sugar Control: Pistachios have a low glycemic index, which means they have a relatively mild impact on blood sugar levels when consumed in reasonable portions. This can be beneficial for individuals with diabetes or those concerned about blood sugar control.

Skin Health: The vitamins and antioxidants in pistachios can contribute to healthy skin by protecting against UV damage and promoting collagen production.

Reduces Hunger & Promotes Weight Loss​l


Storage
Keep It Refrigerated Once Opened!