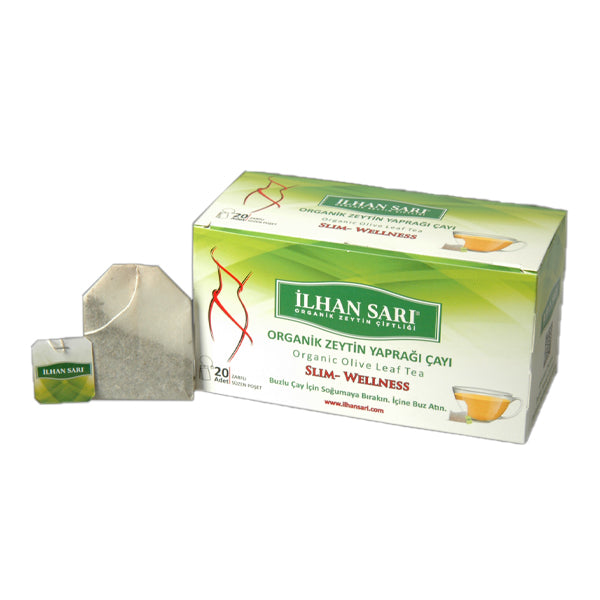 Ilhan Sari Organic Olive Leaf Tea 20 Bags
Original price
$4.80
-
Original price
$4.80
20g x 1.5g
This Organic Olive Leaf Tea has a very unique and pleasant taste and is very different from other teas. If we had to make a comparison to something recognizable, it could be compared to a very light or weak green tea, but with a very pleasant and pronounced flavor.
 This Olive leaf tea is full of beneficial antioxidants and has amazing health benefits similar to that of olive oil. 

Benefits of Organic Olive Leaf Tea:
It helps strengthen the immune system of the body.

It helps to relieve fatigue and malaise.

It helps in lowering blood sugar. (Helps in lowering insulin resistance.)

It gives a feeling of satiety when drunk on an empty stomach. It helps to lose weight and lose weight.

It helps to reduce fatty liver.

It helps protect nerve cells from Alzheimer's and Parkinson's diseases.

With its protective effect on cardiovascular health, it reduces blood lipids and the accumulation of plaques in the vessels and helps delay damage to the heart muscle.

Thanks to the antioxidant it contains, it helps to provide a protective effect against tumor formation by preventing genetic damage to cells.

Helps protect against viruses such as Hepatitis B.

Helps increase the flow of blood in the heart veins

Helps relax blood circulation

It helps prevent heart ailments and heart attacks.

Helps destroy hydrogen peroxide (DNA damage) component.

It helps to relieve fatigue and malaise.

It prevents viral diseases such as HIV, epstein-barr, herpes and influenza.

Relieves sore throat, chronic sinusitis, skin disease and pneumonia.

It helps to eliminate the symptoms of all types of infections, including fungal, bacterial, viral and other parasitic protozoans.

It is effective in treating chronic fatigue, athlete's foot, arthritis, psoriasis and colds.

It is a natural antibiotic (due to the high amount of oleuropein ( C 25 H 32 O 13 ) in our organic olive leaf ).

It relieves the symptoms of spring fever and provides relief from cold, flu and cold.

It helps to cure sinusitis.

It reduces lines on the skin and is effective in removing wrinkles.

It is protective against skin aging.

It helps in removing cellulite.

It helps in regulating the functioning of our intestinal system and respiratory tract.

It helps prevent the formation of gallstones.