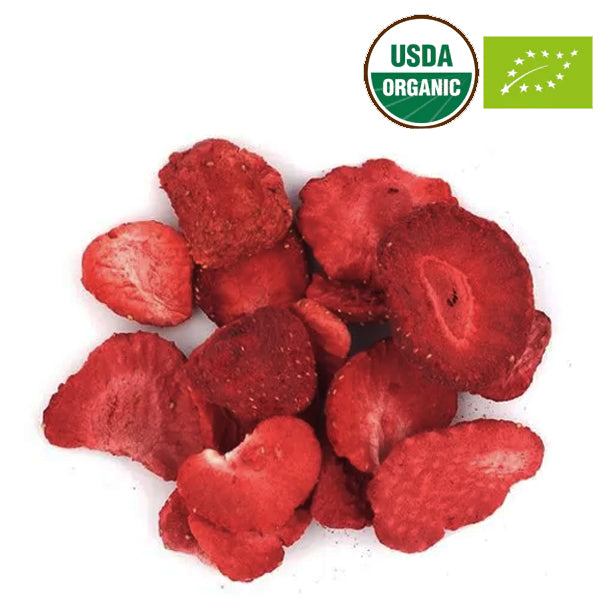 Organic Dried Strawberries 250g - No Sugar Added
Original price
$15.00
-
Original price
$15.00
Introducing our Organic Dried Strawberries with No Sugar Added, a delightful treat for those who crave the authentic taste of strawberries in their purest form. Crafted with care, our strawberries undergo a gentle dehydration process, preserving their natural sweetness and essential nutrients.
These dried strawberries are perfect for creating a fragrant and delicious strawberry tea. Simply add them to hot water, steep, and enjoy a soothing and naturally sweet beverage.
Packed with essential vitamins, minerals, and antioxidants, these dehydrated strawberries are a healthy snack that contributes to your well-being.
Add them to your morning oatmeal, yogurt, and smoothies, or enjoy them straight from the pouch. These strawberries elevate the taste of any dish or snack.

Ingredients:
Organic Dried Strawberries
Nutritional Panel (per 1 oz/28g):
Calories: 80
Total Fat: 0g

Saturated Fat: 0g
Trans Fat: 0g

Cholesterol: 0mg
Sodium: 0mg
Total Carbohydrates: 19g

Dietary Fiber: 4g
Sugars: 8g

Protein: 1g
Vitamin C: 45% Daily Value
Vitamin A: 0% Daily Value
Iron: 2% Daily Value
Calcium: 2% Daily Value