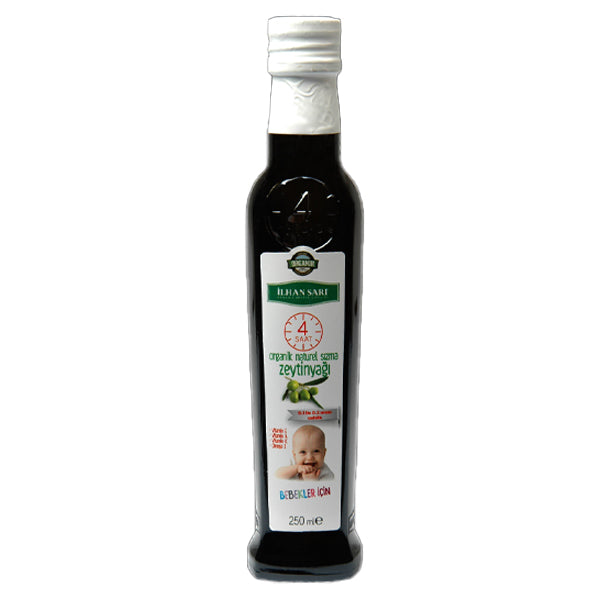 Organic Natural Extra Virgin Olive Oil for Babies 250ml
Original price
$28.00
-
Original price
$28.00
Acid Rate:
0.1 Acidity

Olive type:  Organic and specially selected Green Baby Olives that are newly formed in the branch 
Extrusion Technology: With high technology, cold squeezing in an oxygen-free environment without touching hands and without using any heat.
Harvest Time:  Early Green Harvest
Harvest Period: The  collection and squeezing process was carried out within a maximum of 4 hours.
Product:  Organic Natural Extra Virgin Olive Oil for Babies
 
Benefits For Babies
By giving it orally or massaging the belly area with olive oil during the babies' gas pain (Colic) period, it helps to get rid of the gas and relax the baby (It can be taken orally by putting a few teaspoons in the babies' food.).
It is the most natural and organic food source that gets rid of constipation in babies (It can be taken orally by putting a few teaspoons in the babies' food.).
It accelerates the brain development of babies. 
It speeds up the strengthening of bones.
It has high quality as breast milk.
It provides regeneration of the cells and protects the cell structure. It prevents the deterioration of the cell structure, helps the healing of wounds.
It provides protection against heavy metals taken into the body, toxic compounds, radiation and toxins created by some drugs.
It is good for eye health and provides resistance against eye diseases.
It improves skin health and beautifies the skin.
It protects the skin against harmful rays of the sun and acts as a protective shield for the skin.