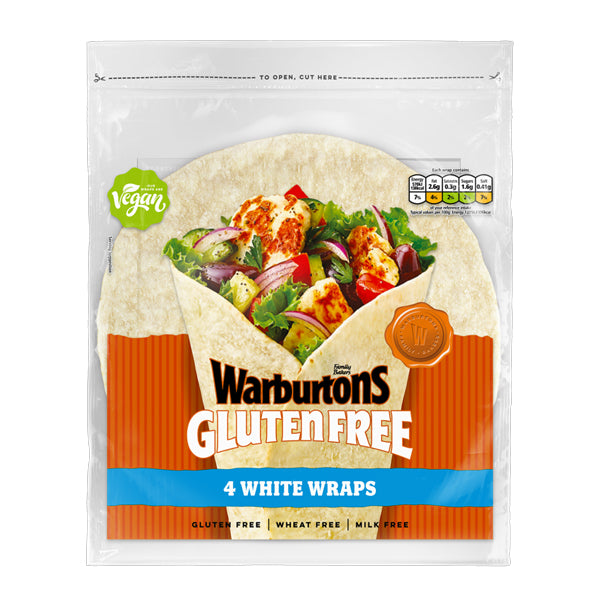 Warburtons Frozen Gluten Free Wraps (Lavash) 4 Pieces 180g
Original price
$12.00
-
Original price
$12.00
You can create a delicious meal by wrapping your sautéed meat, chicken, or vegetables in your lavash and create a quick snack wrap for yourself.  Or you can consume it as an alternative to bread for breakfast. 

Gluten-Free White Wraps (Lavash), a revolutionary take on traditional wraps, crafted to cater to those with gluten sensitivities without compromising on taste or texture. These wraps are the perfect solution for creating delicious, wholesome meals for anyone seeking a gluten-free lifestyle.
Made with carefully selected gluten-free ingredients, our wraps prioritize both taste and nutritional value, ensuring a satisfying and guilt-free eating experience.
Convenience Redefined: These wraps offer convenience at your fingertips. Use them for quick and easy meals, from classic sandwiches to hearty burritos, or as a base for creative appetizers and snacks.

Ingredients:
Water, Rice Flour, Tapioca Starch, Maize Starch, Fruit Extract (Carob and Apple), Stabilisers: Xanthan Gum, E464; Rapeseed Oil, Humectant: Vegetable Glycerine; Pea Protein, Vegetable Fibre (Psyllium), Emulsifiers: E471, E481; Preservatives: Calcium Propionate, Potassium Sorbate; Salt, Natural Flavouring, Flour Treatment Agent: E920 (Vegetarian).